How to reach us
Carloforte is the only village of the island of San Pietro, which is part of the Sulcis archipelago on the south-west coast of Sardinia.
To reach the island there are different possibilities.
Who wants to reach us by plane should land at the Cagliari-Elmas airport, while who arrives by boat should disembark at the Cagliari port.
From here, the trip can continue by bus, administered by the public service company ARST with departure from the city of Cagliari. The trip takes about 2 or 3 hours depending on the ride.
Shuttle services are available through the Di.Be&Poma Shuttle. For prices and timetables, check https://dibepomashuttle.it/
Who arrives from Cagliari by car should continue towards Iglesias on the S.S. 130, and near km 44 should take the direction of Villamassargia-Carbonia. At the crossroad of Carbonia-Sirai, it is possible to continue towards Portovesme or turn towards Calasetta, from which Delcomar ferries leave every day and every night. You can check the winter and summer timetables on the navigation company website: https://delcomar.it/
Portovesme (40 minutes crossing)
Calasetta (30 minutes crossing)
Once you disembark, the house is 600m on the right along the promenade, and it is possible to reach it in 10 minutes walking or 5 by car.
Carloforte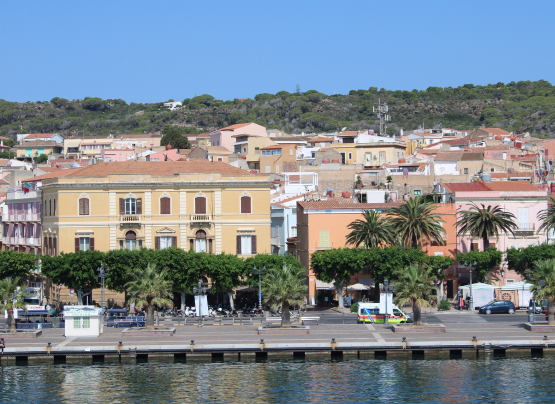 There are several activities you can do on the island:
Bike and crafts rental
Stand Up Paddle or SUP classes and one-day trips
Oasi Lipu visit to watch the Queen's falcon that nests on the overhanging cliffs
Walk in the ancient salines, where now colonies of pink flamingos live along with other waterbirds
Visit the ancient walls and the Civic Museum in the Carlo Emanuele III Fort
Visit to the multimedia museum in San Vittorio tower, a former Astronomical Observatory
Scuba diving near the tuna-fishing-area or to explore the seabed, starting from the diving centres of the island
Trip on typical boats from Carloforte that allow to admire its wonderful shores and fine sand beaches
Guided trekking tours to discover the land
Island

of San Pietro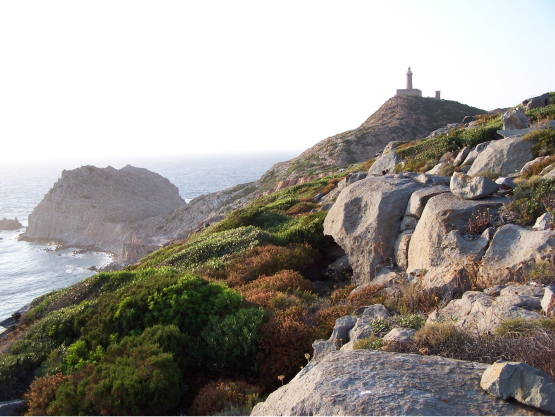 The island of San Pietro belongs to the Sulcis archipelago, off the south-west coast of Sardinia. Its jagged coastline, which in the north-west falls sheer into the sea from a height of 150 metres, alternates with sandy coves bathed by a crystal-clear sea and sheltered from the wind. Of volcanic origin, this island has a varied coastal landscape offering visitors breath-taking scenery. Its territory is only 51 square kilometres, so you can admire its beauties, by sea and by land, in just a few days. You will be enraptured by the colours of the sea in the Cave of Punta delle Oche as well as in Cala Vinagra; you will be fascinated by the high cliffs of Capo Sandalo and its 19th century lighthouse, the most western of Italy; you can dive into the natural pools of La Conca or admire Le Colonne, two stacks symbol of this Island. If you prefer to relax in one of its beaches of fine sand and clear waters you can choose between the beaches Il Giunco, Punta Nera, Girin, Guidi, La Bobba or in the afternoon La Caletta where, in the evening, you witness a romantic sunset.
Are you looking for a corner of peace and relaxation in one of the most characteristic seaside resorts of Sardinia? Book your stay in Dimora Ferralasco.
Book the entire structure